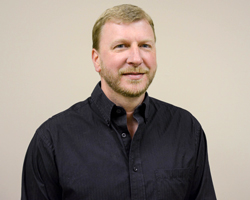 Dave Tanner has been the Action Prosthetics Technician/Fabricator since August of 2009. His duties include fabricating plastic and carbon acrylic sockets. He also maintains the fabrication lab and related materials. Dave has a background of fabrication outside of prosthetics. He also has 14 years of experience in the plastic industry. His prosthetic fabrication training has been on the job. Dave says his favorite part of working at Action Prosthetics is working with his hands. He likes how each socket he makes is different so he's always doing something new and challenging.
Dave was born and raised in Greenville. He lives in Greenville with his wife of 18 years. They have 2 teenage daughters.
When Dave is not at work, he enjoys real estate investing and off-roading.
Contact Dave