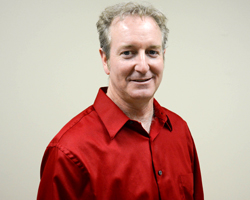 Karl Burk is the Owner and Prosthetist of Action Prosthetics. He started his career in 1999 with an O & P facility in Dayton, Ohio and opened Action Prosthetics in Troy and Greenville in 2008. His duties include evaluating each patient to design and build the proper prosthetic socket type with the latest technology available to lead to a positive outcome. Karl received his Bachelor of Science in Rehabilitation from Wright State University in Dayton, Ohio in 1999. He was State Licensed in 2001 and American Board Certified in 2004. Karl says his favorite part of working at Action Prosthetics is the patient care which includes designing the right prosthesis which leads to each patient having a comfortable fit and being able to be as active as possible.
Karl was born and raised in Greenville. He lives in Greenville with his wife, Lisa, son, Nathan, daughter, Mary and Roxy, their miniature golden retriever.
When Karl is not at work, he enjoys mountain biking, snowboarding, wake boarding, wake surfing, kayaking, and any form of racing!
Contact Karl