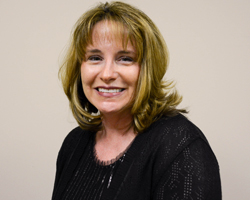 Molly Null has been the Action Prosthetics Patient Liaison and Director of Marketing since January of 2016. She has been a bi-lateral below knee and multi-finer amputee from sepsis since March of 2008. Her duties as the Patient Liaison include working with the staff to provide the best outcome for new patients choosing to wear a prosthesis after amputation. She visits with new amputees and their families to provide moral support, offer first hand advice from real-life experiences, provide answers to questions and offer resources about life after amputation. She also shares information about the process of obtaining a prosthetic device from Action Prosthetics.
As the Director of Marketing, Molly orders promotional items, keeps the company brochure and website up to date, and travels to health care providers in Miami and the surrounding counties to share information about the services Action Prosthetics provides.
Molly holds a Bachelor of Science degree from Bowling Green State University in Elementary Education. She says her 15 wonderful years of being a kindergarten and first grade teacher and working with the public has prepared her well for this new role with Action Prosthetics. Molly says her favorite part of working at Action Prosthetics is getting to know the patients and offering hope that there IS life after limb loss.
Molly was born and raised in Greenville. She currently lives in Piqua with her spoiled rotten kitty, Bernie.
Molly enjoys spending time with her family, her limb loss family and many special friends. She also loves to garden and bake.
Learn more about what a Patient Liaison does here.
Contact Molly
Email: mnull@actionprosthetics.com