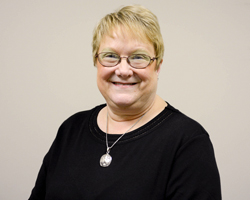 Pam Aukerman has been Action Prosthetics Office Manager since June of 2008. Her duties include patient billing, product ordering, insurance billing, precerting and fee reconciliation, dictation, patient records, insurance contacts, accounts receivable and accounts payable. Pam has 30 plus years of medical training and has taken courses over the years including OSHA training, BWC training and coding seminars. Pam says her favorite part of working at Action Prosthetics is meeting the patients and helping them with their insurance issues.
Pam was born in Greenville and raised in Darke County near Lightsville on State Route 49 North. She currently lives with her husband, David in Greenville. Pam has a daughter (Sherri) and a son (Eric). She is very proud of her 5 grandchildren and 2 great-grandchildren.
Pam enjoys visiting her family and friends, taking pictures, vacationing at Longboat Key, Florida. She also loves to send cards to shut ins, her church family and friends for all occasions.
Contact Pam