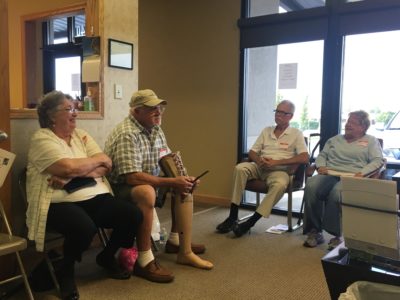 Our patient, Bob Grubbs, spoke at our A.C.T.I.O.N. Meeting on June 26th.   He shared his story about losing his leg as a child and rising above the challenges of wearing a prosthesis.  He has always had a CAN DO attitude!
Bob also spoke about he and his wife's hobby in retirement… making homemade soaps and shaving brushes. He and his wife go all around to festivals selling their Ohio Colonial Soap Company's soaps and brushes. You can check out Bob and Elaine's website: www.colonialsoap.com to see what they do.
Thank you, Bob, for being such an inspirational speaker!