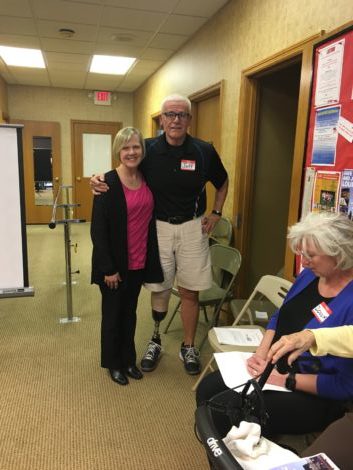 Jeff Clark, from Winchester, Indiana, lost his leg below the knee in 2012 from years of complications from an ankle surgery.  He was told he would never play sports again and Jeff was a very active man…
Jeff came to our support group to share his story…  TRYING IS MORE IMPORTANT THAN THE PERFORMANCE!  He spoke about how he had to find strength both mentally and physically to figure out how to become active again after amputation and play the sport he loved- tennis.  And, believe it or not, Jeff participated in the WORLD T.A.P. Tennis Tournament in Houston, Texas this past December!  This was the first time for this event in the United States and eleven countries were represented.  Jeff's slide show/presentation was heartfelt, funny and so inspiring.  He not only plays tennis again but he loves biking, working out at his local YMCA, volunteers at a local food pantry and helps with a stand-up disability tennis program at a facility in Muncie, Indiana!
Many, many  thanks to Jeff Clark and his wife, Mary, for taking the time to speak at our A.C.T.I.O.N. Meeting!