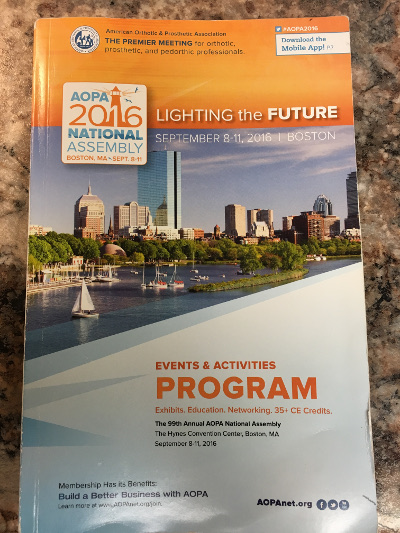 Our prosthetist, Karl Burk, just came back from Boston where he attended the AOPA (American Orthotic & Prosthetic Association) 2016 National Assembly that took place September 8th thru the 11th.  While there, Karl attended many educational sessions such as:
Insurance Documentation
New Advancements in Foot Technology
The Benefits of a Real-Time Microprocessor Foot
Excelling at Complete Business Management
A Breakthrough in Socket Designs
The Socket-Less Socket
Suspension Solutions Utilizing Revofit and Revolanyard Solutions
Kenevo- MPK for Lower Mobility Amputees
Lower Limb Treatment Symposium:  Views from the Orthopedic and Vascular Surgeon's Perspective
Business Solutions for Today's O & P Executive
Prosthetic Socket Technology
Medicare Updates
One of the highlights of this assembly was hearing the keynote speaker, Former Senator Robert Kerry.  He emphasized his relentless advocacy on behalf of O & P care.  He discussed the accomplishments with the Prosthetic and Orthotic Modernization Act and the legislative environment in the four and a half months since the Policy Forum.
Karl always looks forward to this yearly event so he can equip himself with the latest information along with up and coming new advancements in prosthetic devices so he chooses the best componetry for our Action Prosthetic patients.