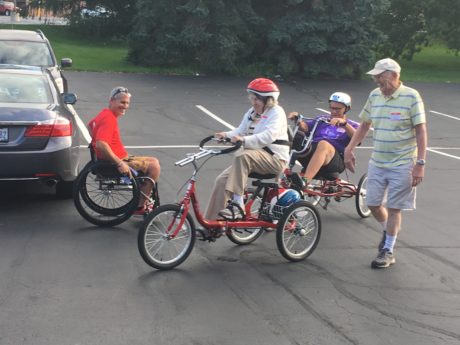 Preston Shepard and J.L. Herron from T.A.A.S.C. (The Adaptive Adventure Sports Coalition) brought several adaptive bikes for our support group to ride on Monday, July 24th!  Everyone with limb loss rode a bike that evening including Flo (above knee amputee) who had never ridden a bike her entire life!  Everyone who attended the meeting had a great time riding and encouraging each other.
Many Thanks to Preston and J.L. from T.A.A.S.C. for transporting the bikes for our group all the way from the Columbus area.  Your dedication to those persons with disabilities who want to stay active is amazing!
***In the picture, L-R:  Preston Shepard (T.A.A.S.C.), Glenda (below knee amputee), Jeff (below knee amputee) and Glenda's supportive husband, Harold, enjoying a great evening of riding!