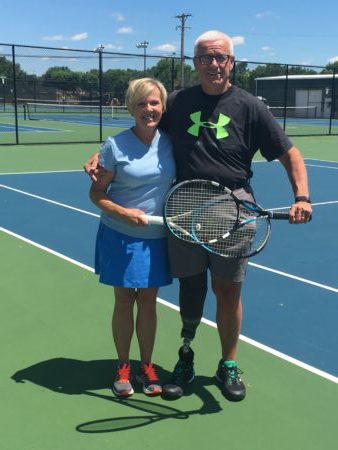 Jeff Clark became a below-knee amputee on June 7, 2012 from multiple surgeries that did not correct a severe ankle problem.  He chose Action Prosthetics in May of 2017 because he was having problems with socket fit, skin breakdown, and sweat issues.  He became acquainted with Karl (Burk, Prosthetist) and Molly (Null, Patient Liaison) through the Action Prosthetics' Support Group and decided to make a switch to Action Prosthetics to enlist Karl's help with the problems he was having.
Jeff now wears an elevated vacuum suspension system which utilizes a Rush high-activity foot.  He loves the new liners and the better-quality sleeves Karl recommended.  Now, Jeff has NO sweat issues or skin breakdown and his residual limb is healthy again.  Jeff said, "I feel confident my leg will stay ON when I am active!" as he is an avid tennis player.  He plays in weekly groups, local and national tennis tournaments!  Jeff and his wife, Mary, like to ride bikes on trails in Indiana and Ohio and work out with a personal trainer.  Jeff loves staying busy with his 6 grandkids and singing in the church choir as well!
Jeff says from his very first appointment with Karl (Burk, Prosthetist) at Action Prosthetics, he felt hopeful.  He said, "Karl was so open to exploring new options to fix the problems I was having with my current prosthesis."
Jeff says he has seen many benefits from coming to Action Prosthetics.  First, Karl's knowledge, efficiency, and desire to get the right results is amazing to Jeff.  His comfort in wearing his prosthesis has greatly improved as the skin issues and breakdowns are all resolved! He says, "I am now able to keep my leg on all day, even after high activity or on hot days with no worry of slippage or skin issues.
When asked if Jeff would recommend Action Prosthetics, he said, "Yes!…everyone in the Action Prosthetics' office is very caring of the patients and their families.  We (he and his wife, Mary) appreciate that!  THANK YOU, Karl, and Action Prosthetics!"