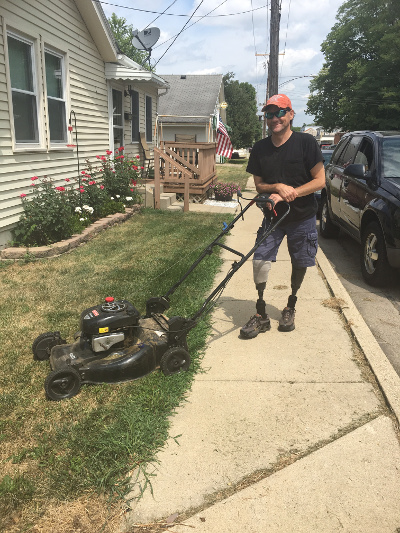 Jim Bashore is a bi-lateral below knee amputee (left leg: July/2007 and right leg: July 2010) from diabetes complications.  He chose Action Prosthetics from driving past our Troy office several times and decided to stop in and check us out. Jim is also a kidney and pancreas transplantee.  He has been through so much and continues to have such a positive attitude!
Jim's new legs have pin system sockets which utilize College Park's Soleus prosthetic feet.  Jim says his new prosthetic legs feel great; he feels more balanced than ever.  Jim just knows his new prosthetics from Action Prosthetics are, "good ones!"  He can now walk, travel, mow the yard, drive and live a normal life.
Jim says Action Prosthetics has been great to him.  Karl (…Burk, our prosthetist) truly listens to any issue he might have with his fit.  He likes being initially sent home with test sockets to make sure things are fitting correctly before receiving the final sockets for his prosthetics.
When asked if Jim would recommend Action Prosthetics, he said, "Yes!" as he added the entire staff is so friendly, listens to him and works to solve any issues he has with the fit of his prosthetics unlike any other company he has worked with in the past.