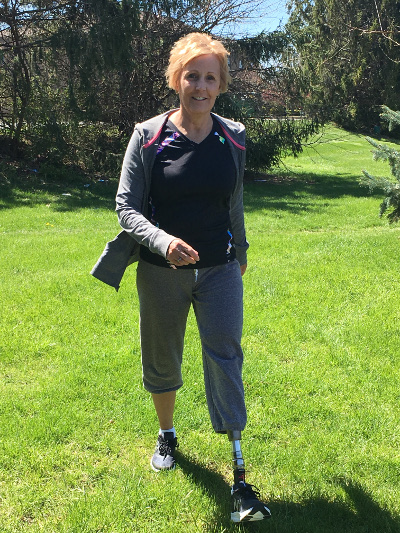 Terri Lutz became a left above-knee amputee on March 11, 2005 from a blood clot/cancer.  She chose Action Prosthetics from a friend's recommendation.  Terri's friend knew she had become frustrated with the lack of service from her former prosthetic provider; she felt like just a number.
Terri was fitted with an above-knee prosthetic leg with a computerized knee.  She loves that she can walk long distances with it. Terri is thrilled that her prosthetic leg allows her to still ride her stationary bike.  She says she also never get sores anymore!
Terri says her experience with Action Prosthetics is always wonderful.  She appreciates that Karl wants to make her leg perfect and he will do whatever it takes to just that.
Terri likes that Action Prosthetics has an office right in Greenville where she lives.  She feels she benefits greatly from Karl's expertise, being able to talk to Molly about limb loss issues, and Pam's knowledge base with her insurance coverage.  She says they make a great team!
Terri would recommend Action Prosthetics to new amputees because she knows the staff really cares.  She knows anyone she would recommend to Action Prosthetics would feel the same way after becoming a patient there.