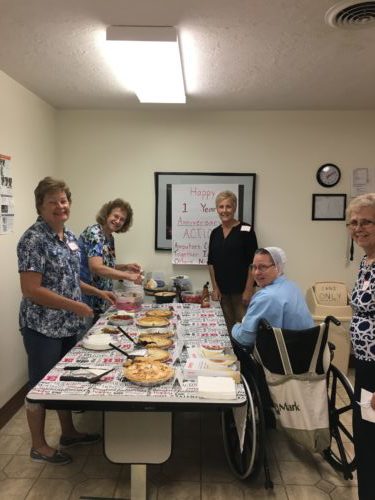 Amputees Coming Together Informing Others' Needs!
A.C.T.I.O.N. celebrated its first anniversary on August 28th with a pie and ice cream social!  There were 25 people in attendance for our celebration – persons with many levels of limb loss, their friends and their family members!
A.C.T.I.O.N. would like to thank Wick's Pies in Winchester, Indiana for donating the sugar cream and pecan pies for this event.  We appreciated their generous donation!  We also had several members bring homemade pies as well.
Many thanks as well to Carol Durr and Cindy Shelley (friends of our group leader, Molly) for helping to set up and serve the pie and ice cream to the group.  The event went smoothly because of their help.
A.C.T.I.O.N. meets every fourth Monday of the month – 6:00pm – 8:00pm – at our Troy, Ohio office.