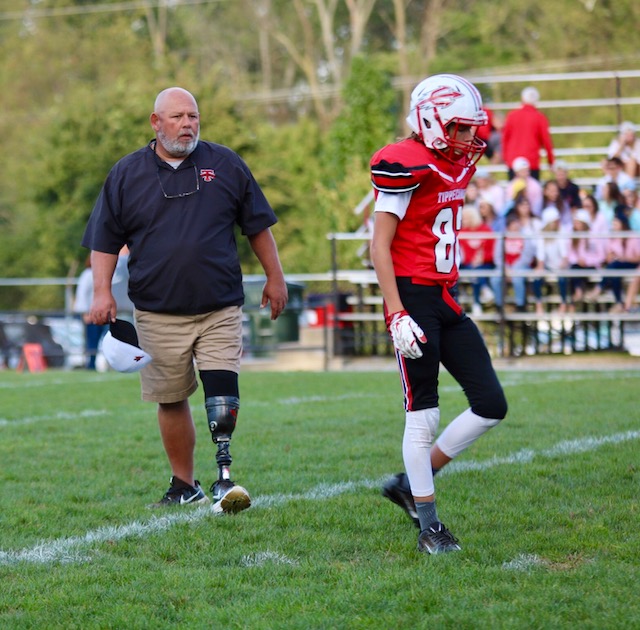 Jim Heatherly became a left below-knee amputee in December of 2011 from arterial clotting.  He chose Action Prosthetics in September of 2016 because he was having problems with socket fit and he says it was hard to get appointments and get issues taken care of quickly before coming to us.  Jim also enjoys attending the A.C.T.I.O.N. monthly support group meetings.
Jim now wears an elevated vacuum suspension system which utilizes a TRITON Harmony high activity foot.  He loves that he can now wear his prosthesis from the time he gets up until he goes to bed noting that before coming to Action Prosthetics, he always had to take his leg off several times a day to make adjustments or rest.  He can now wear long pants in professional and formal situations and not have to worry about finding a restroom to take off his prosthesis to make adjustments.  Jim says, "(Now he) doesn't even realize he is wearing a prosthesis!"  He likes that Karl (Burk, Prosthetist) keeps parts and accessories that he needs in stock.  Jim also likes the personal approach taken at Action Prosthetics and appreciates that he can make an appointment quickly if needed.  He says, "(The staff) wants to know more about me than just my prosthesis.  There is a friendly atmosphere at every appointment."
Jim works full time as the Chief Operations Officer for a Maintenance Company in Tipp City.  He and his wife, Joellen, stay busy with their two children, Claire and Grant.  With his new prosthesis, Jim can hunt and fish on a regular basis.  Jim is also a coach for the Tipp City High School football team.  He likes that he can umpire high school baseball again too!
When asked if Jim would recommend Action Prosthetics, he said, "Yes!…the one-on-one attention afforded by Karl (Burk, Prosthetist) and Molly (Null, Patient Liaison) checking in on me from time to time is incredible.  Action Prosthetics is truly all about the patient, not the money."